IST in the Sixth Framework Programme
The Treaty establishing the European Community (part 3, title XVIII, art. 166, pag.114) provides for the creation of multiannual RTD programmes. The previous Fifth Framework Programme lasted from 1998 to 2002. The Sixth Framework Programme, which was formally adopted by the European Parliament and the Council on 3 June 2002 (1513/2002/EC), will span the period 2002-2006. The specific programmes were adopted by the Council on 30 September 2002. The workprogrammes and the first calls for proposals were published on 17 December 2002.
Further information on the development of the Sixth Framework Programme: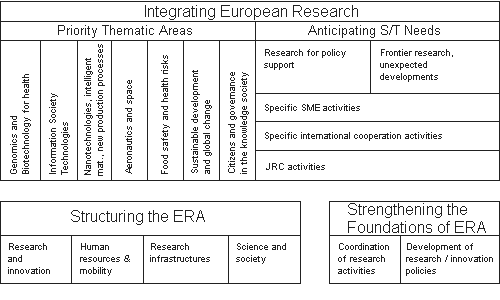 Information Society Technologies (IST) is a single, integrated programme under the European Union's 6th Framework Programme for Research, Technology Development & Demonstration. Its contents are built on the convergence of the information, communication and media technologies. It is implemented under the direction of the Information Society Directorate-General of the European Commission. The structure and activities under the IST programme are detailed on the Structure page.
Support for projects may be obtained via submitting proposals to the IST programme. Legal entities based in the member states of the European Union may participate, as well as those from a country – as Hungary – associated in terms of this programme. The priority areas of the calls for proposals are defined in the strategic objectives of the biannual work programmes. These are elaborated by researchers and developers involved in the specific technologies, experts in the fields of research, education, and government, and representatives of the European Commission.
The IST programme issues a number of calls for proposals during its 4 years time span in accordance with the roadmap, also published in its workprogramme. Participants have 3 months available for the preparation and submission of their proposals. Proposals may be submitted by international consortia for the types of projects called for in the given Call for Proposals.
This homepage is maintained by the EU IST Promotion team in Hungary működteti. We would be pleased to assist you in participating in the IST actions.